October
Garakuta Fair (Jumble market)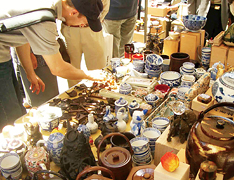 An antique fair started in 1982. Held on the first Sunday of the month from April to October. The streets are temporarily closed to vehicles (called "pedestrians' paradise") and over 20 art dealers have stalls on the street. You will enjoy looking at olden daily-life utensils while strolling down the street.
Date

First Sunday of the month, from April to October each year
Opening of hiking season at Mt. Norikura to climbers - Norikura Skyline is open
This high area consisting of 23 ridges, 7 lakes, and 8 plains is collectively referred to as Mt. Norikura. The highest peak is Mt. Kengamine, 3,026 meters above sea level. You can travel up the mountain along the Norikura Skyline, Japan's highest-altitude mountain road, to a height of 2,700 meters without stopping.
Date

From May 15 to late October
Red autumn leaves from Mt. Norikura to the Hirayu Pass are at their most beautiful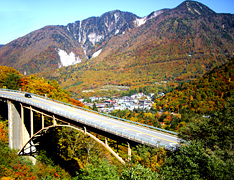 Autumn leaves are at their best.
Date

From early September to early October
Hida Takayama Kimono Walk
Rent a traditional kimono or men's kamishimo to wear while sightseeing in Takayama, with discount entrance to tourist facilities.
Date

Sep. 15(Sat.)16(Sun.)17(Mon.)22(Sat.)23(Sun.)24(Mon.) Oct.6(Sat.)7(Sun.)8(Mon.)9(Tue.)10(Wed.)13(Sat.)14(Sun.)20(Sat.)21(Sun.)27(Sat.)28(Sun.) in 2018

Business Hours

Saturday, Sunday, and National holiday in April, May, September, October and Takayama festival period. Reception time: 9:00 a.m. ~ 2:30 p.m.

Fee

3,000 yen for 2 hours (After 2 hours, 500 yen is charged in every 30 minutes.)
Please return Kinomo before 6p.m.

Address

Takayama Traditional Culture and Crafts Square
35-1 Kami ichinomachi, Takayama City

Contact

+81-577-70-8290

Access

15 min. walk from JR Takayama station

Website
Autumn leaves in the city are at their best
At the Hida Folk Village (Hida-no-Sato), the red autumn leaves are illuminated at night.
Date

From late October to early November
Hida Shokawa Hometown Festival and Renjishi
Thirty lions gather, coming from the shrines in the Shokawa district, to put on magnificent dances as if calling up the nostalgic memories of the mountain villages.
Date

Mid October
Autumn Takayama Festival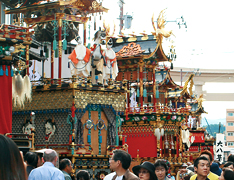 This event has been canceled as a precautionary measure against the novel coronavirus.
An extremely elegant and beautiful festival which is among the three most beautiful festivals of Japan. The highlight of the festival is gorgeous floats described as "moving Youmeimon (the famous, gorgeously-decorated gate to Toshogu Shrine in Nikko)" and marionettes skillfully operated on the floats.
Date

October 9 & 10
Autumn Illumination in Hida Takayama
The Nakabashi Bridge is illuminated soon after dark to create a fantastic view of the surrounding area.
Date

Early October