August
Takayama-Jinya Kabuki
A special night of Ji-Kabuki is performed in the hall of a national historical site,Takayama-Jinaya(historical government office), which still retains the flavor of the Edo Period.
Tickets will be sold on the day of the performance in front of Takayama-Jinya (from 9:00am). Advance tickets are available on Aug. 2 : https://www.jikabuki.net/
<70 seats for each day>
Date

Aug.17(Sat.)・18(Sun.) Aug.31(Sat.)・Sep.1(Sun.)

Business Hours

19:30-20:30 (Venue opens at 19:00)

Fee

1,000 yen
In the HP(https://www.jikabuki.net/), there is an explanation by English how to purchase the tickets. Please check it.

Address

1-5 Hachiken-machi Takayama-shi, Gifu

Contact

Gifu Historical Road Tourism Secretariat : 0584-71-6134
jikabuki@ne-planning.com

Access

Approximately 15 minutes on foot from JR Takayama station

Website

Ticket (External link)
Garakuta Fair (Jumble market)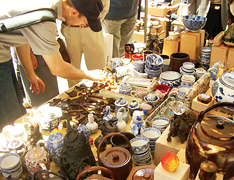 An antique fair started in 1982. Held on the first Sunday of the month from April to October. The streets are temporarily closed to vehicles (called "pedestrians' paradise") and over 20 art dealers have stalls on the street. You will enjoy looking at olden daily-life utensils while strolling down the street.
Date

First Sunday of the month, from April to October each year
Opening of hiking season at Mt. Norikura to climbers - Norikura Skyline is open
This high area consisting of 23 ridges, 7 lakes, and 8 plains is collectively referred to as Mt. Norikura. The highest peak is Mt. Kengamine, 3,026 meters above sea level. You can travel up the mountain along the Norikura Skyline, Japan's highest-altitude mountain road, to a height of 2,700 meters without stopping.
Date

From May 15 to late October
Summer illumination in Hida Takayama
The Nakabashi Bridge is illuminated soon after dark to create a fantastic view of the surrounding area.
Cool Summer Evening Bon-Odori (traditional folk dances in the cool summer evening)
Takayama dances (Takayama-ondo, Hida-yansa) which are designated as intangible folk cultural asset of Takayama City are performed by local people and visitors. Some of the best dancers among the visitors are rewarded with certificates and commemorative photos. Please join and dance with us.
Place: Various places in the City
Date

August
Ema-ichi (A fair to sell paintings of horses)
In days of old, farmers dedicated paintings of horses to the Matsukura Kannon (Goddess of Mercy) located southwest of Takayama, wishing for the safety of their cows and horses and a rich harvest of silk from cocoons, or even actually took horses or cows to be blessed by goddess. The Ema-ichi Fair is to sell paintings of horses. Likening the painted horses to fine, expensive horses, people trade these paintings calling out, "10 million ryo, 20 million ryo, etc. ("ryo" being old unit of Japanese money)", which is called "Matsukura Price". A painting of horse posted on the wall at the entrance to a house is believed to bring good fortune to the family, so, many houses still have these paintings at the entrance.
Date

August 9 & 10 each year
Hida Takayama Tezutsu (hand-held) Fireworks Display
A temporary platform is built on the river bed of the Miyagawa River. Fireworks are set off bamboo cylinders handheld by "shooters", who get showers of sparks from the fireworks, creating extremely exciting scenes.
Date

August 9 each year
Tanabata (Star) Festival
In the Hida region, the Tanabata Festival is held on August 7, one month behind the date on solar calendar because the event originates from the position of stars by lunar calendar. Each shopping street celebrates the Tanabata and the Summer Festivals, offering opportunities for eating, sightseeing, playing, and many other experiences of summer.
Date

August 6 & 7 each year