December
SNS posting Campaign
You can take home Hida Takayama's folk art, such as "Sarubobo", by posting your pleasant memories of Hida Takayama to SNS!
<How to participate>
Just post your memorable scenes of your experiences in Hida Takayama to your own SNS.
Please do not forget the hashtag (#hidatakayama)!
Please enter the posted SNS screen to the person in charge at one of the exchange offices as listed.
One Sarubobo will be available for each person.
Date

April 1 - December 20, 2020

Business Hours

Please check the business hour of each exchange office

Fee

Free

Address

1 <Hida Takayama Tourist Information Office>
5-51 Hanasato-machi, Takayama
Hours 8: 30-18: 30

2 <Nakabashi Bridge Tourist Information Office>
1-2 Honmachi, Takayama
Hours 9: 00-18: 00

3 <Hida Takayama (Machikado) Tourist Information Office>
44 Kami-sannomachi, Takayama
Hours 10: 00-16: 00

4 <Takayama Museum of History and Art>
35-1 Kami-ichinomachi, Takayama
Hours 9: 00-18: 00

5 <Takayama Youth Activities Office "Mura-han">
6 Shimo-ninomachi, Takayama Hours 10: 00-21: 00
* Starting from April 12, 2020

6 <Hirayu Bus Terminal>
628 Okuhida Onsengo-Hirayu, Takayama
Hours 8: 30-16: 30

7 <Shin Hotaka Center>
710-9 Okuhida Onsengo-Kansaka, Takayama Hours 10: 00-17: 00

8 <Shin Hotaka Ropeway>
710 Okuhida Onsengo-Kansaka, Takayama
Hours 8: 30-16: 00
* Ending on May 26, 2020
Aodaru Illumination (Fukuji)
Within the mountains of the Fukuji Onsen area stands the "Fukuji Wall" rock face. As water seeps from the rock face it freezes into columns of blue ice, known as Aodaru.
These columns of blue ice are recreated in the hot spring town.
In daytime the columns are a beautiful clear blue, and at night they are lit up to create an even more magical scene.
From early to mid February you can enjoy special events such as the "Ice Path Light-up", that allows you to walk behind the Aodaru, and demonstrations of the local performing art of the Hembetori lion dance.
Date

Late December to late March
(The period of the event may be moved forward or backward depending on weather and other factors.)

Business Hours

Between 5 p.m. and 10 p.m.

Fee

Free

Address

Near the "Fukuji Onsen" bus stop, Fukuji Onsen

Contact

Okuhida Onsengō Tourism Association
0578-89-2614

Access

1 hour 10 minute bus ride from JR Takayama Station. Get off at Fukuji Onsen.

Website

Okuhida Onsengō Tourism Association (External link)
Illuminaion of Taruma Kanekori in the Oku Hida Silva Zone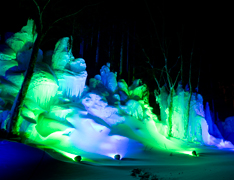 Taruma Water' finds its origin in the legend of the founding of the Shin-Hirayu Hot Springs. The renowned mineral water flowing from between the rocks is frozen to make big icicles. Nighttime illumination creates a fantastic image.
Date

From late December to late February
Winter Illumination in Takayama
The snow-covered Nakabashi and Miyagawa River area is illuminated to create a fantastic landscape.
Date

From early December to the end of February each year