September
Takayama-Jinya Traditional Cultural Performances
Traditional cultural performances of Gifu Prefecture will be held in the hall of a national historical site, Takayama-Jinya (historical government office), which still retains the flavor of the Edo Period.(English subtitles available. Commentary materials available in English, Chinese, French and Spanish.)
Takayama-Jinya entry fee(430yen)and a "participation ticket" are required.
Tickets will be distributed in front of Takayama-Jinya (on the day of the performance from 9:00am). Advance orders are available on Aug. 23: https://jinya-geino.com
Date

Sep. 6(Fri.)・7(Sat.)・8(Sun.)

Business Hours

Sep. 6 (Fri.) 11:30-- / 13:30-- <45 seats each>
7 (Sat.) 11:00-- / 15:30-- <56 seats each>
8 (Sun.) 11:00-- / 15:30-- <42 seats each>

Fee

430yen(Takayama-Jinya entry fee)and a "participation ticket" are required.
On the website (https://jinya-geino.com), there is an explanation in English of how to order the participation ticket. Please check it.

Address

1-5 Hachiken-machi Takayama City, Gifu

Contact

Takayama Jinya Traditional Cultural Performance Office : 0584-71-6131

Access

Approximately 15 minutes on foot from JR Takayama station

Website

Ticket (External link)
Garakuta Fair (Jumble market)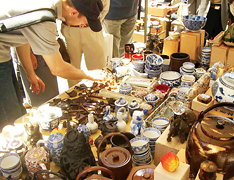 An antique fair started in 1982. Held on the first Sunday of the month from April to October. The streets are temporarily closed to vehicles (called "pedestrians' paradise") and over 20 art dealers have stalls on the street. You will enjoy looking at olden daily-life utensils while strolling down the street.
Date

First Sunday of the month, from April to October each year
Opening of hiking season at Mt. Norikura to climbers - Norikura Skyline is open
This high area consisting of 23 ridges, 7 lakes, and 8 plains is collectively referred to as Mt. Norikura. The highest peak is Mt. Kengamine, 3,026 meters above sea level. You can travel up the mountain along the Norikura Skyline, Japan's highest-altitude mountain road, to a height of 2,700 meters without stopping.
Date

From May 15 to late October
Rice harvesting in kurumada, wheel-shaped rice fields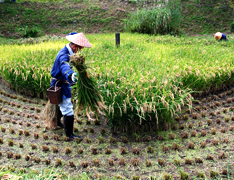 The method of planting rice plants concentrically around a rod standing at the center of the rice paddy is a very rare method in Japan and is a unique method developed in Hida.
Date

Late September each year
Red autumn leaves from Mt. Norikura to the Hirayu Pass are at their most beautiful
Autumn leaves are at their best.
Date

From early September to early October
Hida Takayama Kimono Walk
Rent a traditional kimono or men's kamishimo to wear while sightseeing in Takayama, with discount entrance to tourist facilities.
Date

Sep. 15(Sat.)16(Sun.)17(Mon.)22(Sat.)23(Sun.)24(Mon.) Oct.6(Sat.)7(Sun.)8(Mon.)9(Tue.)10(Wed.)13(Sat.)14(Sun.)20(Sat.)21(Sun.)27(Sat.)28(Sun.) in 2018

Business Hours

Saturday, Sunday, and National holiday in April, May, September, October and Takayama festival period. Reception time: 9:00 a.m. ~ 2:30 p.m.

Fee

3,000 yen for 2 hours (After 2 hours, 500 yen is charged in every 30 minutes.)
Please return Kinomo before 6p.m.

Address

Takayama Traditional Culture and Crafts Square
35-1 Kami ichinomachi, Takayama City

Contact

+81-577-70-8290

Access

15 min. walk from JR Takayama station

Website
Cosmos Park is opened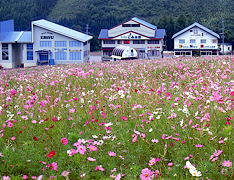 The skiing slope in the Honokidaira Ski Resort during the off-season offers a 4-hectare site teeming with about eight million cosmea flowers in full bloom.
Date

August each year (may change depending on date of first bloom)