February
Nakao Kamakura Festival (Nakao)
There are many kamakura (snow huts) in various sizes. Even the smallest ones are large enough for adults to enter. Some kamakura have an irori fireplace, and there is also a kamakura with a bar inside. So not only children but adults can enjoy this world of fantasy in a relaxing atmosphere.
Local performing art programs "Nakao Meoto Shishi" (a male and a female lion dance) and mochi rice cake making sessions are held during this event.
The lion dance is a must see. Two lions perform a synchronized acrobatic dance, and it is definitely worth watching!
Nakao Meoto Shishi・・・February 1, 2, 8, 9, 10 and 14.
Mochi Rice Cake Making・・・February 3-7, 11-13.
※Event schedules may change due to various reasons, such as climate conditions.
Date

From February 1 to 14, 2020

Business Hours

(Illumination: between 8 p.m. and 9:30 p.m.)

Fee

Free

Address

Shinhotaka Onsen, Nakao Kōgen, Nakao Event Park
351 Naoak, Okuhidaonsengō, Takayama City, Gifu Prefecture 506-1422

Contact

Okuhida Onsengō Tourism Association
0578-89-2614

Access

1 hour 30 minute bus ride from JR Takayama Station. Get off at Nakao Kōgen (Ashiyu-Mae) and walk approximately 10 minutes.

Website

Okuhida Onsengō Tourism Association (External link)
Aodaru Illumination (Fukuji)
Within the mountains of the Fukuji Onsen area stands the "Fukuji Wall" rock face. As water seeps from the rock face it freezes into columns of blue ice, known as Aodaru.
These columns of blue ice are recreated in the hot spring town.
In daytime the columns are a beautiful clear blue, and at night they are lit up to create an even more magical scene.
From early to mid February you can enjoy special events such as the "Ice Path Light-up", that allows you to walk behind the Aodaru, and demonstrations of the local performing art of the Hembetori lion dance.
Date

Late December to late March
(The period of the event may be moved forward or backward depending on weather and other factors.)

Business Hours

Between 5 p.m. and 10 p.m.

Fee

Free

Address

Near the "Fukuji Onsen" bus stop, Fukuji Onsen

Contact

Okuhida Onsengō Tourism Association
0578-89-2614

Access

1 hour 10 minute bus ride from JR Takayama Station. Get off at Fukuji Onsen.

Website

Okuhida Onsengō Tourism Association (External link)
Illumination of Subzero Forest
The Subzero Forest is a special winter attraction which has been presented by the isolated mountain inn, "Akigami Onsen Ryokan" since1971. The "Forest of ice", which was created by the innkeeper after long years of effort, is lit in blue during the daytime and illuminated at night, showing us a fantastic world.
Date

From January 1 to March 31 each year
Winter Illumination of Hida-no-Sato (Hida Folk Village)
The old private houses such as houses with steep rafter roofs are illuminated to create a fantastic landscape.
Date

From mid January to the end of February each year
Illuminaion of Taruma Kanekori in the Oku Hida Silva Zone
Taruma Water' finds its origin in the legend of the founding of the Shin-Hirayu Hot Springs. The renowned mineral water flowing from between the rocks is frozen to make big icicles. Nighttime illumination creates a fantastic image.
Date

From late December to late February
Frozen Hirayu Grand Waterfall Festival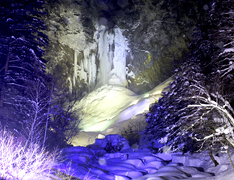 From February 15 to 25 every year, the frozen Hirayu Grand Waterfall is illuminated. This 64-meter high and 6-meter wide waterfall shows its majestic shape with massive ice blocks heaped on top of others.
Date

From February 15 to February 25 each year
Setsubun (Bean-throwing Ceremony)
About 20 members of Setsubun Association who are dressed like Seven Divinities of Good Luck, red ogres and blue ogres start parading from the temple gate and go through the town passing Takayama Station, Honmachi Street and Kokubunji Temple while throwing beans en route.
Date

Early February each year