April
SNS posting Campaign
You can take home Hida Takayama's folk art, such as "Sarubobo", by posting your pleasant memories of Hida Takayama to SNS!
<How to participate>
Just post your memorable scenes of your experiences in Hida Takayama to your own SNS.
Please do not forget the hashtag (#hidatakayama)!
Please enter the posted SNS screen to the person in charge at one of the exchange offices as listed.
One Sarubobo will be available for each person.
Date

April 1 - December 20, 2020

Business Hours

Please check the business hour of each exchange office

Fee

Free

Address

1 <Hida Takayama Tourist Information Office>
5-51 Hanasato-machi, Takayama
Hours 8: 30-18: 30

2 <Nakabashi Bridge Tourist Information Office>
1-2 Honmachi, Takayama
Hours 9: 00-18: 00

3 <Hida Takayama (Machikado) Tourist Information Office>
44 Kami-sannomachi, Takayama
Hours 10: 00-16: 00

4 <Takayama Museum of History and Art>
35-1 Kami-ichinomachi, Takayama
Hours 9: 00-18: 00

5 <Takayama Youth Activities Office "Mura-han">
6 Shimo-ninomachi, Takayama Hours 10: 00-21: 00
* Starting from April 12, 2020

6 <Hirayu Bus Terminal>
628 Okuhida Onsengo-Hirayu, Takayama
Hours 8: 30-16: 30

7 <Shin Hotaka Center>
710-9 Okuhida Onsengo-Kansaka, Takayama Hours 10: 00-17: 00

8 <Shin Hotaka Ropeway>
710 Okuhida Onsengo-Kansaka, Takayama
Hours 8: 30-16: 00
* Ending on May 26, 2020
Hida Takayama Hina Doll Festival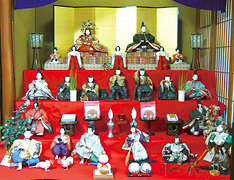 The doll (Hina) festival is celebrated one month later than the traditional Doll's Day in Takayama so that the actual festival day is April 3. Approximately one month before the festival day, traditional (Hina) dolls such as clay dolls, antique dolls, Meiji era dolls, etc. are displayed at various locations throughout the city. Places: Various locations throughout the city, including tourist facilities and historic houses such as Hida-no-Sato (Hida Folk Village)
Date

From March 1 to April 3 each year
Garakuta Fair (Jumble market)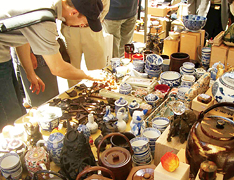 An antique fair started in 1982. Held on the first Sunday of the month from April to October. The streets are temporarily closed to vehicles (called "pedestrians' paradise") and over 20 art dealers have stalls on the street. You will enjoy looking at olden daily-life utensils while strolling down the street.
Date

First Sunday of the month, from April to October each year
Cherry trees in bloom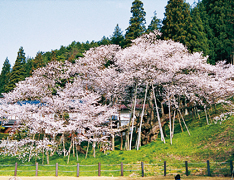 Hida Takayama has many fine spots from which you can view magnificent cherry trees in bloom, such as the Garyu Cherry Tree and the Shokawa Cherry Tree.
Date

From mid April to early May
Hida Takayama Kimono Walk
This event has been canceled as a precautionary measure against the novel coronavirus.
Rent a traditional kimono or men's kamishimo to wear while sightseeing in Takayama, with discount entrance to tourist facilities.
Date

Sep. 15(Sat.)16(Sun.)17(Mon.)22(Sat.)23(Sun.)24(Mon.) Oct.6(Sat.)7(Sun.)8(Mon.)9(Tue.)10(Wed.)13(Sat.)14(Sun.)20(Sat.)21(Sun.)27(Sat.)28(Sun.) in 2018

Business Hours

Saturday, Sunday, and National holiday in April, May, September, October and Takayama festival period. Reception time: 9:00 a.m. ~ 2:30 p.m.

Fee

3,000 yen for 2 hours (After 2 hours, 500 yen is charged in every 30 minutes.)
Please return Kinomo before 6p.m.

Address

Takayama Traditional Culture and Crafts Square
35-1 Kami ichinomachi, Takayama City

Contact

+81-577-70-8290

Access

15 min. walk from JR Takayama station

Website
Spring Takayama Festival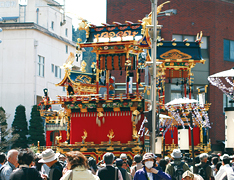 One of the three most beautiful festivals of Japan: twelve gorgeous decorative floats are pulled in a festival procession on the red-colored Nakabashi Bridge and Shinmeidori Street; in particular, karakuri marionettes operated for god on three floats (Sanba-so, Ryujin-tai, and Shakkyo-tai floats) are the highlight of the festival. In the evening, a night festival continues while festival floats are led by the festival procession, which parades through the streets.
Date

April 14 & 15 each year
Hida Live Dolls Festival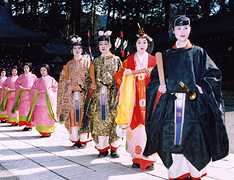 Single women selected from all over Hida render service at a Shinto shrine, attired in costumes of the Empress, consort, ministers, and court ladies. The parade of Live Dolls, as it winds through the village, looks as if it were right out of a picture scroll of the Heian period. Rice cakes are scattered at the end of the festival.
Date

April 3 each year