May
Garakuta Fair (Jumble market)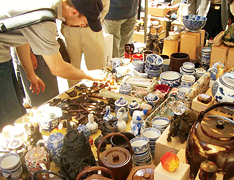 An antique fair started in 1982. Held on the first Sunday of the month from April to October. The streets are temporarily closed to vehicles (called "pedestrians' paradise") and over 20 art dealers have stalls on the street. You will enjoy looking at olden daily-life utensils while strolling down the street.
Date

First Sunday of the month, from April to October each year
Cherry trees in bloom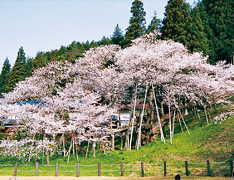 Hida Takayama has many fine spots from which you can view magnificent cherry trees in bloom, such as the Garyu Cherry Tree and the Shokawa Cherry Tree.
Date

From mid April to early May
Hida Takayama Kimono Walk
This event has been canceled as a precautionary measure against the novel coronavirus.
Rent a traditional kimono or men's kamishimo to wear while sightseeing in Takayama, with discount entrance to tourist facilities.
Date

Sep. 15(Sat.)16(Sun.)17(Mon.)22(Sat.)23(Sun.)24(Mon.) Oct.6(Sat.)7(Sun.)8(Mon.)9(Tue.)10(Wed.)13(Sat.)14(Sun.)20(Sat.)21(Sun.)27(Sat.)28(Sun.) in 2018

Business Hours

Saturday, Sunday, and National holiday in April, May, September, October and Takayama festival period. Reception time: 9:00 a.m. ~ 2:30 p.m.

Fee

3,000 yen for 2 hours (After 2 hours, 500 yen is charged in every 30 minutes.)
Please return Kinomo before 6p.m.

Address

Takayama Traditional Culture and Crafts Square
35-1 Kami ichinomachi, Takayama City

Contact

+81-577-70-8290

Access

15 min. walk from JR Takayama station

Website
Mizubasho in bloom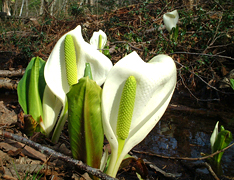 These mizubasho (small white calla lilies), which are designated as a Gifu Prefectural natural treasure, grow abundantly on an area of about one hectare and display their snow-white flowers across the entire marsh surrounded by the swampland near the Yamanaka Pass, 1,375 meters above sea level.
Date

Late April each year
Opening of hiking season at Mt. Norikura to climbers - Norikura Skyline is open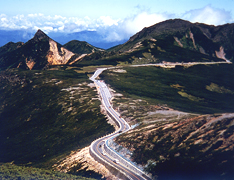 This high area consisting of 23 ridges, 7 lakes, and 8 plains is collectively referred to as Mt. Norikura. The highest peak is Mt. Kengamine, 3,026 meters above sea level. You can travel up the mountain along the Norikura Skyline, Japan's highest-altitude mountain road, to a height of 2,700 meters without stopping.
Date

From May 15 to late October
Banryu Festival (opening of the climbing season at the Northern Alps)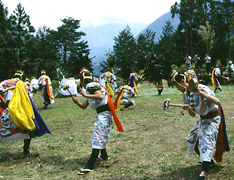 This festival is held each year to pray for the safety of those climbing the Northern Alps. Praising the great accomplishments of the holy priest Banryu, who founded the worship of Mt. Yarigatake and Mt. Kasagatake, representatives of various fields get together to hold this festival in the Onoue Park clad in fresh verdure. Following a Shinto ritual, local performing arts such as Torigei (dance of fighting cocks and hens) and Henbetori (lion dance representing a legend of defeating evil snake) are dedicated to god of mountain.
Date

Early May each year
Annual Hida Sosha Festival
This is the annual festival of the grand sanctuary enshrining most guardian gods of Hida. A worship service attended by approximately 1,000 people is like viewing an Edo era picture scroll. Do not miss seeing Kaguradai (a sacred music and dancing platform) which is designated as a prefectural cultural asset.
Date

May 4 & 5 each year
Kinzojishi (Kinzo lion dance)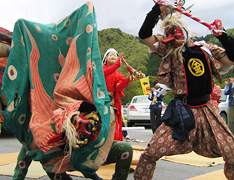 This valiant, lively, and original dance is a unique expression of the story where the evil lion who plays the mischief with the village is punished by the god Kinzo and the goddess Okame.
Date

May 3 & 4 each year