July
SNS posting Campaign
You can take home Hida Takayama's folk art, such as "Sarubobo", by posting your pleasant memories of Hida Takayama to SNS!
<How to participate>
Just post your memorable scenes of your experiences in Hida Takayama to your own SNS.
Please do not forget the hashtag (#hidatakayama)!
Please enter the posted SNS screen to the person in charge at one of the exchange offices as listed.
One Sarubobo will be available for each person.
Date

April 1 - December 20, 2020


Business Hours

Please check the business hour of each exchange office

Fee

Free

Address

1 <Hida Takayama Tourist Information Office>
5-51 Hanasato-machi, Takayama
Hours 8: 30-18: 30

2 <Nakabashi Bridge Tourist Information Office>
1-2 Honmachi, Takayama
Hours 9: 00-18: 00

3 <Hida Takayama (Machikado) Tourist Information Office>
44 Kami-sannomachi, Takayama
Hours 10: 00-16: 00

4 <Takayama Museum of History and Art>
35-1 Kami-ichinomachi, Takayama
Hours 9: 00-18: 00

5 <Takayama Youth Activities Office "Mura-han">
6 Shimo-ninomachi, Takayama Hours 10: 00-21: 00
* Starting from April 12, 2020

6 <Hirayu Bus Terminal>
628 Okuhida Onsengo-Hirayu, Takayama
Hours 8: 30-16: 30

7 <Shin Hotaka Center>
710-9 Okuhida Onsengo-Kansaka, Takayama Hours 10: 00-17: 00

8 <Shin Hotaka Ropeway>
710 Okuhida Onsengo-Kansaka, Takayama
Hours 8: 30-16: 00
* Ending on May 26, 2020
Garakuta Fair (Jumble market)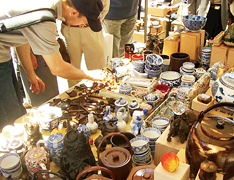 An antique fair started in 1982. Held on the first Sunday of the month from April to October. The streets are temporarily closed to vehicles (called "pedestrians' paradise") and over 20 art dealers have stalls on the street. You will enjoy looking at olden daily-life utensils while strolling down the street.
Date

First Sunday of the month, from April to October each year
Opening of hiking season at Mt. Norikura to climbers - Norikura Skyline is open
This high area consisting of 23 ridges, 7 lakes, and 8 plains is collectively referred to as Mt. Norikura. The highest peak is Mt. Kengamine, 3,026 meters above sea level. You can travel up the mountain along the Norikura Skyline, Japan's highest-altitude mountain road, to a height of 2,700 meters without stopping.
Date

From May 15 to late October
Lavender in bloom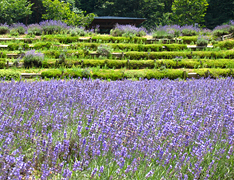 There are two parks featuring lavender flowers: the Kiyomi Lavender Park and Pascal Kiyomi Lavender Garden. In early summer, light-purple lavender flowers come into bloom, releasing a relaxing fragrance that floats on the air, suffusing the whole area with their heady scent.
Date

From the end of June to mid July each year
Morning Glory Fair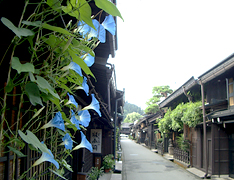 The Kami-Ichinomachi-dori Street is temporarily closed to vehicles ("pedestrians' paradise"), and potted plants such as morning glories and Chinese lantern plants are sold on the street.
Date

Late July
Summer illumination in Hida Takayama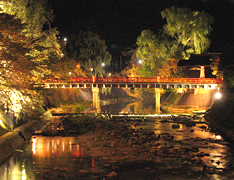 The Nakabashi Bridge is illuminated soon after dark to create a fantastic view of the surrounding area.