Utsue Shijuhattaki Falls Prefectural Nature Park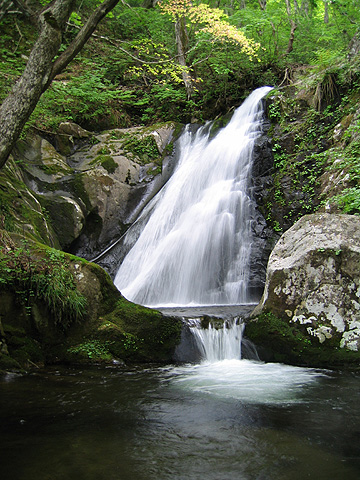 In an 800 hectare prefectural national park, these waterfalls fall to the ground as thunderous waves. The waterfalls never look the same, as the natural surroundings change each season. The waterfalls provide peaceful seclusion. Among the 13 waterfalls, Outaki drops from a height of 18.8 meters and fascinates visitors. It is an 880 meter walk to Kamihirataki, which is at the top of all the waterfalls. The paths in the park are paved with stone to make walking easier. It takes approximately 1 hour to finish the entire trail.
Address

3235-86 Utsue, Kokufucho, Takayama City

Contact

TEL: +81-577-72-3948
FAX: +81-577-72-4841

Business Hours

Shop: April to Mid November
(The road is open only to the parking lot at Utsue Shijuhattaki General Information Center in winter.)

Admission

Cleaning Fee: 200 yen per adult, 100 yen per child

Access

30 minute drive from JR Takayama Station via National Highway Route No. 41.
30 minute drive via National Highway Route No. 41 from Takayama IC off the Chubu-Jukan Expressway.
Map
map