Furukawa Festival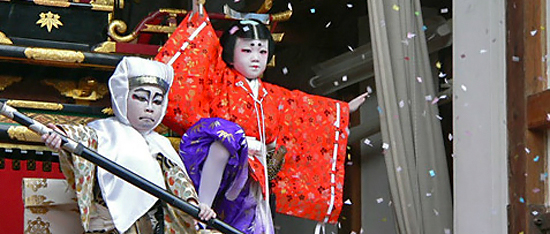 The Furukawa Festival is one of Japan's Three Great "Naked Festivals," held annually on April 19th and 20th.
On the afternoon of the 19th, the beautifully decorated festival floats are hauled into Furukawa town. From 9 pm on the 19th continuing until early morning, the Okoshi Daiko, an enormous drum atop a tower, is carried through the streets by hundreds of men clad only in cotton loincloths, despite the cold.
Two men sit astride either end of the drum, striking it in turn. In close pursuit, 12 neighborhood groups of men follow the Okoshi Daiko. Each group carries a Tsuke Daiko, a 3-meter long staff with a small attached drum. The groups struggle to maintain the closest position to the Okoshi Daiko's tower, the most prestigious position. As the Okoshi Daiko passes through key crossroads in the town, the neighborhood groups surge forward with their Tsuke Daiko, jostling with each other as well as the guards stationed behind the large drum, in kind of pitched battles. These "naked" men (in loincloths) run through the town, drumming and roughly shoving one another into the morning hours.
It's a fantastic spectacle, but be sure to pick a safe spot from which to view the festival. The naked men can be known to engage spectators as well as each other in their scuffles.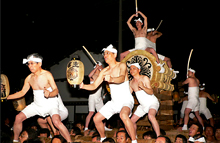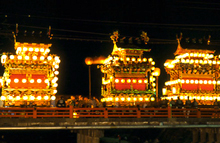 Facility info.
Date

April 19th to 20th

Address

Downtown, Furukawa-cho, Hida City, Gifu Prefecture

Tel

+81-577-74-1192 (Hida City Sightseeing Association)

Access

[Public bus]
One way 360 yen
Takayama Nouhi Bus Center / 40 min. / Furukawa Station

[JR train]
One way 230 yen
JR Takayama Station / 20 min. / JR Furukawa Station
*Fees shown here are just for reference. For details, please check the relevant website.