World Heritage Site, Historic Village of Gokayama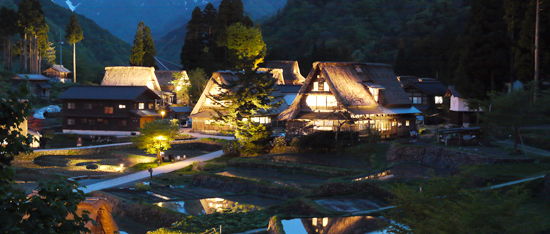 Gokayama (Five Mountains) Village is named after the precinct's five valleys: the Akaodani, Kami-nashidani, Shimo-nashidani, Otan, and Togadani Valleys.
In December 1995, Gokayama and nearby Shirakawa-go Villages were registered as a UNESCO World Heritage Site, the "Historic Villages of Shirakawa-go and Gokayama." In 2009, the villages were awarded three stars by France's Michelin Travel Guide.
Nowhere else in Japan will you find the unique gassho-zukuri style of farmhouses. Their steep, thatched roofs are reminiscent of hands folded in prayer—gassho in Japanese. Each of the surviving homes is a priceless cultural asset, thought by many to represent the pinnacle of Japanese wooden building techniques.
The Ainokura settlement preserves twenty gassho-style homes, as well as temples, shrines, an irrigation system and rustic old paths. Visitors get a sense of stepping back in time two or more centuries, to the rural Japan of the Edo Period. From Takayama City, the trip by bus takes about an hour and a half, with a transfer in Shirakawa-go. Gokayama is smaller, but has the advantages of fewer tourists and a more traditional atmosphere.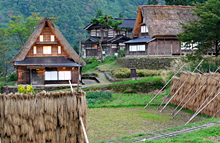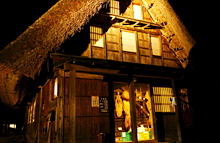 Facility info.
Address

Nanto City, Toyama Prefecture

Tel

+81-763-66-2468 (Gokayama Sightseeing Association)

Access

[Sightseeing Bus Plan]
Adult: 6,500 yen (including Japanese-language guide and meal. Reservation required.)
Takayama Nouhi Bus Center (Departure at 8:30 a.m.) / Gokayama / Ainokura Gassho-Style Village / Shirakawa-go Village (Lunch) / Takayama Nouhi Bus Center (Arrival at 3:10 p.m.)

[World Heritage Sites Shirakawa-go / Gokayama Transfer Ticket]
Adult: 3,600 yen (Please check the timetable)
Takayama Nouhi Bus Center / 50 min. / Shirakawa-go Ogi-machi / 50 min. / Ainokura
*Fees shown here are just for reference. For details, please check the relevant website.