Kenrokuen Garden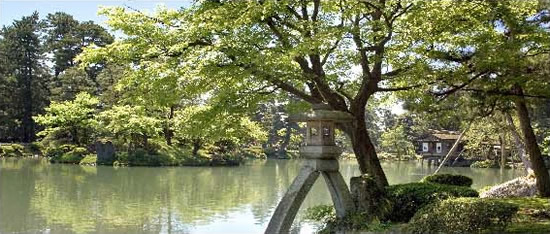 Kenrokuen Garden is traditionally regarded as one of Japan's Three Great Gardens, along with Kairakuen in Mito and Korakuen in Okayama. But even among these three, Kenrokuen enjoys a special reputation for its unique beauty.

Located in the center of Kanazawa City, Kenrokuen Garden is representative of the Edo Period gardens of feudal lords. Under a succession of lords of the Maeda Clan, the garden's construction spanned nearly two centuries. Originally used for seasonal parties and to entertain important visitors to Kanazawa, the garden remained closed to the public until 1874. Today, people from across the world visit Kenrokuen to enjoy the seasonal charms of a truly exemplary Japanese garden.

The spacious garden grounds include ponds, streams, miniature landscapes (tsukiyama), waterfalls and bridges. A series of Japanese tea-houses lines the Hyakken-bori moat. Unlike most Japanese gardens, intended for viewing from a single vantage point in temples or palaces, Kenrokuen makes full use of its ample space, allowing visitors to walk the paths to take full advantage of its beautiful and assorted views.
An old Chinese saying claims that "No garden can contain six superb views." Kenrokuen, however, proves otherwise. That is why admirers claim that this garden is perfect, and no garden like it will ever be made again.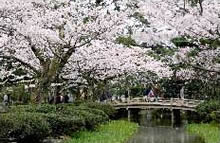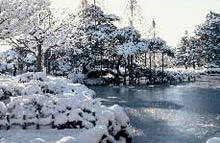 Facility info.
Admission fee

Adult (over 18 years old) 310 yen
Child (6-18 years old) 100 yen

Open hours

Mar. 1-Oct.15 7:00-18:00
Oct. 16- Feb.28 8:00-17:00

Closed days

None

Address

1-1 Marunouchi, Kanazawa City, Ishikawa Prefecture

Tel

+81-76-234-3800

Access

[Express bus]
One way 3,300 yen
Takayama Nouhi Bus Center / 120 min. / Kanazawa Station

[JR train]
One way 5,440 yen
JR Takayama Station / Express train / JR Toyama Station (transfer) / Express train / JR Kanazawa Station
*Fees shown here are just for reference. For details, please check the relevant website.