Yoshijima Heritage House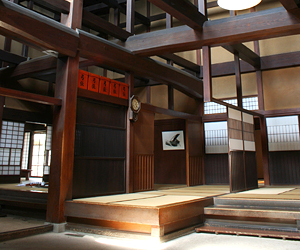 National Important Cultural Treasure
This was built in Meiji 41 (1908). Because it has been a Sake brewery since olden times, a huge sakabayashi (sign of a shop dealing in sake, made of Japanese ceder leaves) is hung under the eaves. The beauty of the wood is shown in the wooden pillars and panel doors, as well as in the staircase centered on the main pillar of the house and composed of beams (horizontal pillars) and posts (pillars perpendicular to the beams), with sunlight from the top window entering the house, and in the wooden pillars and panel doors.
In contrast to the masculine style of the Kusakabe house, it can be said that this Yoshijima house is a structure possessing subtlety and feminine beauty, tending towards sensitivity and delicacy through and through.
Address

1-51 Ojinmachi, Takayama City

Contact

TEL: +81-577-32-0038
FAX: +81-577-34-3338

Business Hours

March to November: 9a.m. to 5p.m.
December to February: 9a.m. to 4:30p.m.
Closed: Tuesdays from December to February (open if Tuesdays fall on national holidays), December 29 to January 1

Admission

500 yen per adult, 300 yen per elementary or junior high school student
Group (30 or more people): 450 yen per adult, 250 yen per elementary school student

Access

17 minute walk from JR Takayama Station.
Map
map