Takayama Morning Markets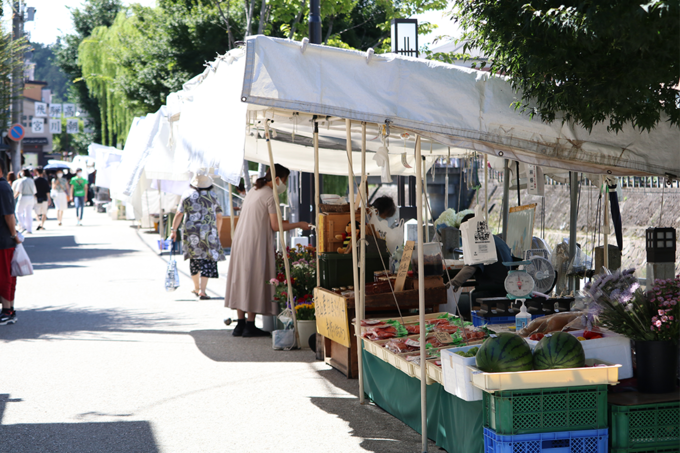 Let's go and see the local market in Takayama
Takayama morning market is one of the biggest morning markets in Japan. It takes place at two locations: One is held in front of the Takayama Jinya, and the other at the Miyagawa River side. At the Miyagawa market, sixty shops and stalls are open in approximately 350 meters from Kaji bashi Bridge to Yayoi bashi Bridge along the Miyagawa River in the center of the town. The stalls on river side sell vegetables, fruits, pickles and spices while shops on the other side sell Japanese sweets and crafts.
Some shops sell Japanese souvenirs such as chopsticks and small items in addition to Takayama local souvenirs including sarubobo dolls and Ichii Itto-bori wooden carvings.
※The number of stalls might decrease to about 10 when it rains or during winter.
The Jinya-mae market started more than 300 years ago. The origin of the market started with silk raising farmers who sold leaves of mulberry trees and even today only farmers are allowed to open stalls. Many stalls sell fresh green vegetables, dried foods, and homemade pickles, and they are happy to tell you how to eat and to preserve their foods. Unusual ingredients including stems of potato, carrot leaves and wild vegetables can be found.
Both markets are open until almost noon; however we recommend you arrive about 6:00 am when the markets start if you stay in Takayama. You will see energetic local people set up the stalls wearing traditional work clothes and Japanese cooking aprons with sleeves.
Address

Shimosannomachi, Takayama City

Business Hours

April to November: 7a.m. to noon
December to March: 8a.m. to noon
Open all year round

Admission

Free Admission

Access

10 minute walk from JR Takayama Station.

Website

Website:Takayama Morning Markets (External link)
Map
map