Making grilled rice crackers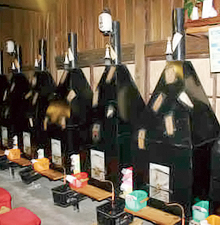 Bake your own rice crackers, and keep them as a souvenir.
Time required

30 min.

Number of participants

60-100 people per time/up to 600 people per day

Available days

Everyday (9:00 a.m. - 5:00 p.m.)

Fee

400 yen per person (5 kinds, 8 crackers can be made)
500 yen per person (Crackers you have made and souvenir packed in box)

Making reservations

Reception daily (9:00 a.m. – 5:00 p.m.)
Please make an advance reservation for large groups.

Requests

Contact for details.

Remarks

Foreign language available (prior notice required)
Visitor Parking: Free – 7 spaces for regular-sized cars
Toilets (Wheelchair accessible)
Flow of experience
Explanation
Experience (Make your own rice crackers, with different flavors: tamari-soy sauce, salt, squid, sesame, hot spices, and heart-shaped crackers)
Pack the crackers as a souvenir, and get a certificate.
Facility info:Yume Kojo Hida
Address

52 Sakura-machi, Takayama City, Gifu Prefecture, 506-0858

Access

15 min. walk from JR Takayama station
Requests for enjoyable experience
Please contact the facility directly for details and reservations in advance of the participation program.
Please contact the facility about any changes to your reservation, as early as possible.
Please arrange your own transportation to the program site.
Program may be anavailable depending on the facility's schedule. Please contact in advance to confirm program availability.
Please note that details of these contents may change without notice.