Transportation in Takayama
How to Catch a Bus

It is almost same process to catch the Takayama city line bus, route bus and express bus.
A fare for Machinami bus,
a brown bus, is 100 yen per ride,
a child before school age is free.
A fare for Sarubobo bus is 100 yen per ride.
Nohi Bus:Phone +81-577-32-1160 (English is available)
1.Buy a ticket at the Ticket Office (basic English is spoken)
Confirm the terminal number and departure time on the electric display board.Terminal numbers 1 to 6 are indicated for individual destinations.

2.Get on the bus from the front door (show your ticket to driver)

If you get on a bus other than at the bus center, take a numbered ticket and pay the relevant fare when you get off. Fares are shown on the display board in front of the bus. A fare for a route bus varies depending on the travel distance.
Even fare is applied for Machinami bus and Sarubobo bus.
3.Press the button when your destination bus stop is announced.


Please press the button so that your driver knows you are getting off.
4.Get off the bus from front door.

If you bought a ticket from the bus center, please give it to the driver or put it in a box next to the driver's seat. If you got on the bus other than the bus center, put your numbered ticket and the fare shown on the front display board in the fare collecting box. Please prepare some coins from the change machine as no change is available at the collecting box.
In case you have a one day open ticket, show it the driver and get off the bus.
Bus Terminal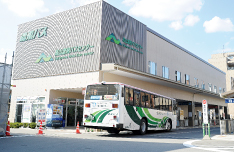 Once you exit from JR Takayama Station, you will find the Nohi Bus Center behind the police box (KOBAN). Loop bus services within Takayama City and for Okuhida and express bus services for Shirakawa-go, Tokyo and other cities are available from here.
There is another handy service available here; you can check in your larger luggage which cannot fit in a coin-locker for 500 yen a day.
Taxi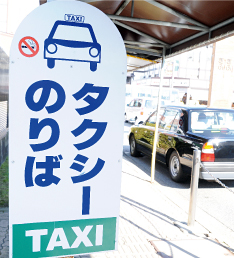 People tend to think a taxi is more expensive than public transport; however, hiring a taxi privately could be more affordable and efficient depending on the number of visitors in a group. Sometimes a taxi is the only transportation if your accommodation is far from a bus stop. Different from big cities, you have to call a taxi company or wait for a taxi at the taxi stand near the Takayama Station or at busy streets. If you call a taxi, an extra 100 yen is additionally charged.
The initial fare for a taxi is 660 yen and 20 to 30 percent will be added at night.
Please note that more people use a taxi on weekends, at the end of the year or on snowy days and sometimes you have to wait more than one hour.
No tips are required for a taxi in Japan.

General Machinami and Sarubobo Bus Info
The Machinami Bus is a 30-minute roundtrip bus that runs frequently past the train stations, tourist spots, shopping streets, public facilities, hospitals and parking lots in central Takayama City.
The Sarubobo Bus runs from Takayama Station in the direction of Hida Folk Village and the Hida Earth Wisdom Center in the southwestern part of Takayama.
Bus Routes and Timetable
Major Tourist Spots Serviced by Machinami Bus:
Old Private Houses (Sanmachi St. bus stop)
Takayama Historical Government House (Takayama Historical Government House bus stop)
Takayama Festival Floats Exhibition Hall (Hachimangu mae bus stop)
Kusakabe Folk Museum (Kusakabe Folk Museum bus stop)
Takayama Museum of History and Art (Museum bus stop)
Major Tourist Spots Serviced by Sarubobo Bus:
Hida Folk Village (Hida no sato bus stop)
Hida-Takayama Museum of Art (Hida-Takayama Museum of Art bus stop)
Hida Takayama Festival Forest (Matsurinomori bus stop)
Hida Earth Wisdom Center (Hida Earth Wisdom Center bus stop)
Fares
Machinami Bus: 100 yen (Preschool age children ride free.)
Sarubobo Bus: Adults 100 yen,
One-day pass: Adult 500 yen (includes discounts on admission to 13 tourist spots in Takayama City)
The one-day pass can be used on all Machinami Bus, Sarubobo Bus, and Nora My Car lines.
Bus operating company:
Nohi Bus:Phone +81-577-32-1160 ( English is available)