Okuhida Hot Spring Village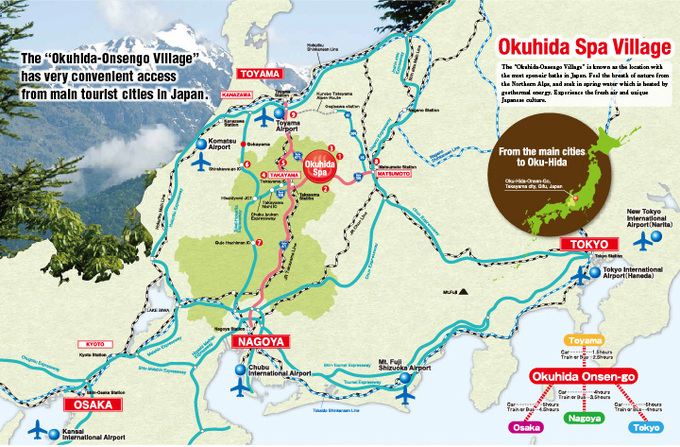 "Okuhida-Onsengo Village," an onsen hot spring resort, is located approximately one hour by car from Takayama City Center. "Okuhida-Onsengo" is the comprehensive name of five onsens: Hirayu, Fukuji, Shinhirayu, Tochio and Shinhotaka. The area is spread out across the foot of the Northern Alps. With abundant hot springs, the village has the largest number of open-air baths in Japan. Much of the most beautiful mountain scenery in Japan is nearby. Visitors can thoroughly enjoy relaxing in the baths surrounded by majestic nature.
Hirayu Onsen
This is the oldest hot spa resort in Okuhida. Being in such a convenient location, it has been highly utilized since ancient times. It is Gifu Prefecture's gateway to the Abou Tunnel, which connects Gifu and Nagano Prefectures. Hirayu Bus Terminal has shuttle buses to Kamikochi and Mt. Norikura.
Fukuji Onsen
Surrounded by the serenity of the mountains, this is the most secluded hot spring location in Okuhida-Onsengo Village. There is a quiet street leading to the onsen, and a morning market is held there. Visitors can purchase seasonal products including mountain vegetables, fresh mushrooms, folk crafts and local specialties.
Shinhirayu Onsen
Located in the middle of Okuhida-Onsengo Village, this onsen has both small and large accommodation facilities-each of them has a unique character and charm-and many eating places and souvenir shops. In winter, the 40-meter frozen waterfalls are lit up, and various events are held.
Tochio Onsen
This is an idyllic, tranquil hot spring. Nearby Gamatagawa River has an abundant supply of freshwater fish, such as iwana trout and yamame trout, and it is a popular spot for fishing.
Shinhotaka Onsen
Located at the starting point of the Northern Alps Trail, this onsen has several accommodation facilities with great views. Shinhotaka Ropeway, the best tourist spot in the village, is located nearby. Visitors can go to the observation deck at the summit 2,156 meters above sea level.