Anime Site Tour

Hyouka x Hida Takayama (Introducing the locations where the TV anime "Hyouka" was set)
The TV anime "Hyouka" was set in the fictional city Kamiyama, and part of the film was based on Takayama City.
* Takayama City was selected as one of the 88 sacred anime pilgrimage sites in Japan by the Anime Tourism Association in 2018. (The results were announced on August 26, 2017.)
TV Anime "Hyouka"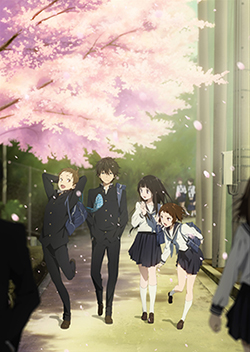 This is an anime based on Honobu Yonezawa's novel "Kotenbu" (Classic Literature Club) series. The anime aired between April and September 2012.
<Synopsis>
Hotaro Oreki is a first year senior high school student who prefers to relax and take it easy. He unintentionally joins the "Kotenbu" which is just about to be dissolved. He meets a super inquisitive heroine named Eru Chitanda at the club. The other members of the club are Marika Ibara and Satoshi Fukube, both old friends of Hotaro's from junior high school. This is an anime in which these four teenagers solve several mysteries which occur at Kamiyama Senior High School. Eru's catchphrase "I wonder" changes Hotaro's dull but peaceful school life forever!
Featured Anime Sites:
Many sites and buildings in the anime are based on actual sites in Takayama City. We will introduce the main locations with clips from the anime.
Kamiyama Senior High School (Hida Senior High School) [In the opening scene & each episode]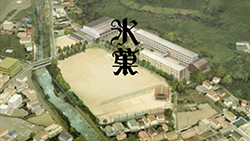 The fictional Kamiyama Senior High School which Hotaro and his friends attend is based on the real life Hida Senior High School. The school is famous for "Hakusen-Nagashi," an event where students tie the white bands from the boys' caps and girls' scarves together and float it down a river after their graduation ceremony.
* Note: Please keep off the school grounds. Taking photographs of students is prohibited.
Kajibashi Bridge [In the opening scene & Episode 18]
This is a bridge over Miyagawa River which runs right through the center of Takayama City. The main features of the bridge are statues of a long-armed "tenaga" and a long-legged "ashinaga," both copied from the sculptures on the "Ebisu-tai" Spring Takayama Festival float.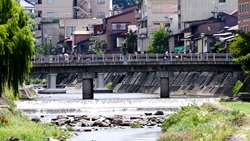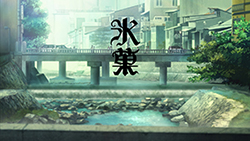 Miyagawa Morning Market Street [In the opening scene]
This is the street from Kajibashi Bridge to Yayoihashi Bridge where the Miyagawa Morning Market is held each day. Many stalls are open from morning until noon; and fresh fruit, vegetables and local specialties are sold here.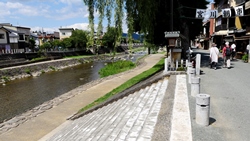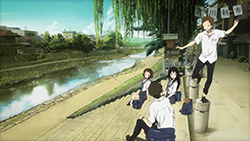 Arekusujinja Shrine (Hiejinja Shrine) [In the opening scene & Episode 20]
Arekusujinja Shrine is modeled after Hiejinja Shrine, called Spring Takayama Festival is held. The festival is held on the 14th and 15th of April each year. Splendid yatai floats are displayed at the festival, and marionette performances are held. The festival is registered as a UNESCO Intangible Cultural Heritage event.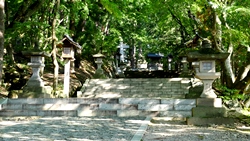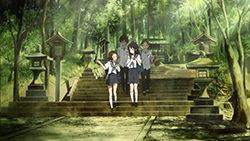 Yayoihashi Bridge [In the opening scene, Episodes 11 & 18]
This is a bridge over Miyagawa River. The smaller bridge under it is called Taikobashi Bridge. It was damaged by a flood after a heavy rainfall and then removed. Below Yayoibashi Bridge, "tezutsu hanabi" (hand-made bamboo fireworks) are set off on August 9 each year.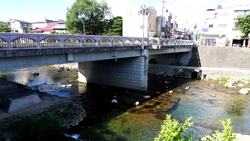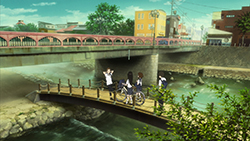 Hirayu Onsen Hot Springs [Episode 7]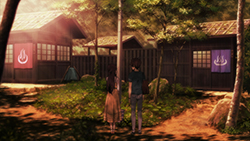 This outdoor bath is built next to Hirayu Folk Museum in Hirayu, Okuhida Onsengo Village. Visitors can enjoy both beautiful nature and hot springs in Hirayu. The museum also has an archives center inside a traditional private house. Antique folk craft items and agricultural equipment are on display.
Kamiyama City Library (Takayama City Library "Kanshokan") [Episode 18]
This library has a distinctive French-style exterior which resembles a school which existed in the Meiji Era called "Kansho-Gakko." It is a multi-functional facility with a modern literature library and a community education room.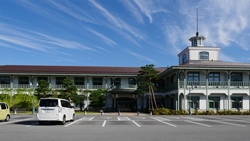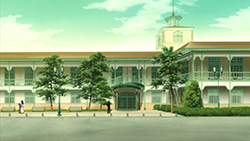 Hida Ichinomiya Minashijinja Shrine & Hida Ikibina Matsuri (Live Doll Festival) [Episode 22]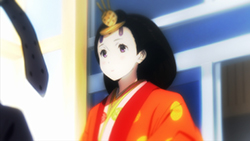 Designated as Hida's Ichinomiya (the highest ranking Shinto shrine in the area), this shrine has been worshipped by local residents since ancient times. On April 3 of each year, "Hida Ikibina Matsuri" is held and nine single women selected from the entire Hida region wear Heian-style classic kimonos and stroll around the city.
Garyu Cherry Trees (Garyu Sakura) [Episode 22]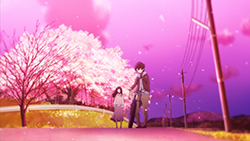 The trees are named "Garyu" because the shape of their trunks resembles a dragon lying on the ground. These large "Edohiganzakura" (a variety of cherry trees where the flowers reach full bloom around the Spring Equinox-higan) trees are over 1,100 years old with a branch span of 30 meters and are 20 meters tall. "Garyu Sakura" is designated as a national natural monument.
"Hyouka" Butai Homon Map ("Hyouka" Site Visitor Map)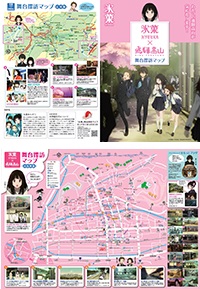 Takayama City offers a complimentary "Hyouka" Butai Homon Map (in Japanese) which shows the sites and buildings used in the anime series. Please feel free to take one and use it to visit the many wonderful sites in Takayama.
<Locations where the map is available>
Hida Takayama Tourist Information Office (Takayama Station Norikura/East Exit)
Hida-Takayama Tourism & Convention Bureau Tourist Information Center (1-2 Honmachi, Takayama City)
Takayama City Hall Tourism Division (2-18 Hanaokamachi, Takayama City)
Antenna Shop "Marutto Plaza" (2-60 Honmachi, Takayama City)
TV Anime "Hyouka" related link
©Honobu Yonezawa - KADOKAWA SHOTEN CO.,LTD. / The graduates of the classic club of the Kamiyama high school