Local Sake
Introduction of Local Sake
Takayama is famous as one of the greatest sake-producing locations in Japan. Full scale production began around the 17th century. At its peak, there were more than 60 sake breweries in Takayama.
There are three reasons why sake in Takayama is so tasty. First, it is the cold climate. Surrounded by the 3,000-meter high mountains, Takayama is a location where the temperature difference between daytime and nighttime and between summertime and wintertime is significant. In particular, it snows a lot in winter and gets bitterly cold, but this coldness is essential for sake production. Second, it is the condition of the water. Infiltrated water from the Northern Alps is necessary to make tasty sake. Third, it is the rice. In Takayama, the locally produced "Hida-Homare" rice is used for sake production. This rice has five elements—sweetness, spiciness, sourness, astringency and bitterness. They are in good balance, and delicious sake is produced when it is mixed with the infiltrated water in the bitter cold.
There are six breweries in Takayama City. Each makes brands with unique flavors, colors and aromas. Visit all of them and taste the various sake. Finding the best sake for you is one of the great ways to enjoy Takayama.
Introduction of Sake Breweries
Harada Sake Brewery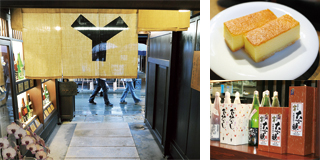 The representative sake from this brewery is "Sansya" (Festival float) that has been produced since 1855. For a ginjo sake invented ten years ago, they used "flower yeast "which is refined from nectar extracted by a respected teacher of the brewery's president. The refining process was a world first success. Even experienced head brewers who tasted this sake in process described it as "sake beyond traditional sake". This is a new kind of sake with a mild and rich flavor. This brewery developed not only sake but many kinds of sweets with their deep knowledge of sake. Local sake cheesecake bar and local sake jelly have a unique aroma and taste.
| | |
| --- | --- |
| Hours | 9:00-18:00 |
| Business Day | Open all year round |
| Tasting | 200 yen |
| Contact | +81-577-32-0120 |
| Address | 10 Kamisannomachi Takayama |
Kawashiri Sake Brewery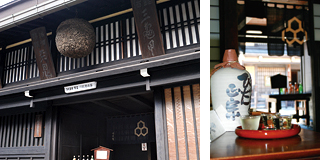 This private brewery only uses local "Hidahomare" rice which is a special brand for sake making. They store sake for two to four years, making it fermented old sake. This long process cannot be achieved without strong wisdom about sake. Their represcentative sake, "Ten on "or "Hida Masamune" tastes sweet as its flavor is very soft. Normally the older alcohol gets the more expensive it is, but Kawajiri Brewery offers almost the same price for young sake so that their customers can enjoy it daily. The brewery produces only 700 liters which is equivalent to 400 bottles so their sake is only available within Takayama City. You have to visit Takayama to taste them. Mail order is available for repeated customers.
| | |
| --- | --- |
| Hours | 8:00 ~ 17:00 |
| Business Day | Open all year round |
| Tasting | Charged / Sake 500 yen , Plum wine 330 yen |
| Contact | +81-577-32-0143 |
| Address | 68 Kamininnomachi Takayama |
Hirata Sake Brewery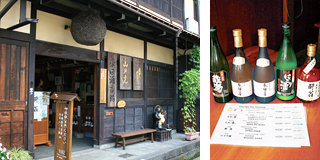 This brewery has a wide range of sake products including daiginjo, junmai nigori and honjozo. Its special sweet sake "Suiou", a long term fermented old sake of more than ten years, won the first prize at the national sake brewery contest for three consecutive years since 2007.
They originally sold hair oil and candles when the shop opened in 1769, then they started sake making in 1895 which is quite new as a local brewery. Their business philosophy is sake making is not just manufacturing but caring, emphasizing the importance of hand made. They also run the Hirata Museum to exhibit utensils and materials from the late 18th century.
| | |
| --- | --- |
| Hours | 8:00 ~ 17:00 |
| Business Day | Closed on Tuesdays |
| Tasting | Charged ※Credit card OK |
| Contact | +81-577-32-0352 |
| Address | 43 Kamininnomachi Takayama |
Hirase Sake Brewery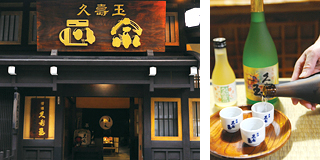 This is the oldest sake brewery in Takayama, first appeared in the historical record in 1623. They use sake specialized rice from Hida and Hyogo, and have it milled to only 35 % of its core.
The representative sake, "Kusudama" which is the same name for lucky ball in Japanese, is popular because of its good name and clear taste, and severed at many established restaurants. When Michelin's guidebooks featured this sake, they started to export it overseas.
It costs almost 100 dollars in a New York restaurant, but in Takayama you pay only about 20 dollars and can compare it with other series of sake.
| | |
| --- | --- |
| Hours | 8:15 ~ 17:00 |
| Business Day | Closed on Sundays |
| Tasting | Free |
| Contact | +81-577-34-0010 |
| Address | 82 Kamiichinomachi Takayama |
Niki Sake Brewery
Their specialty is ginjo sake for which highly polished rice (at least 60%) is used and fermented at colder temperatures for longer periods of time. They offer all their sake at best condition, for example, fresh namazake and daiginjo "Tama no i"which is bottled in its best season. The building is a traditional town house, called "machiya", by local craftsmen featuring a large dirt floored space with solid beams and a sake storehouse with plastered walls. The architecture is based on the plan from 1695 when the shop first opened. The structure lets wind into a courtyard and humidity in the house is the same as it used to be despite parts of the original building burnt down 120 years ago. It was once used as a set for the filming of a TV program.
| | |
| --- | --- |
| Hours | 8:00 ~ 17:00 |
| Business Day | Closed occasionally |
| Tasting | Charged |
| Contact | +81-577-32-0021 |
| Address | 40 Kamininomachi Takayama |
Funasaka Sake Brewery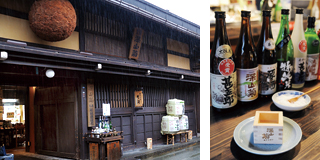 This sake brewery proactively develops new tastes of sake while keeping its tradition. The representative varieties include daiginjo"Miyama giku" which is fermented at low temperatures for longer periods, freshly stored "Hida no Jingorou" and "Yubae" using ancient rice.
In 2010, they opened a restaurant and cafe on the property. At the restaurant Japanese cuisine that compliment sake and local food are on the menu, while at the cafe a sweet drink made from sake sediments and sweets made from sake are served. There is a bar counter where you can taste all their sake while chatting with sake experts (Fee charged).
| | |
| --- | --- |
| Hours | 8:30 ~ 20:00 |
| Business Day | Open all year round |
| Tasting | Free |
| Contact | +81-577-32-0016 |
| Address | 105 Kamininomachi Takayama |
Oita Sake Brewery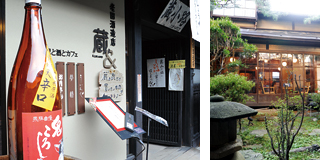 Their representative variety "Oni korosi" is well known for its very dry taste. It is distinctive among Hida local sake which has a good reputation for dryness. The variety has been loved in the area for almost 300 years since the shop first opened.
The brewery itself was moved to Kiyomi cho, Takayama, and managed the process with new technology and computers. With cutting edge technology, they control subtle temperature differences by digitizing their traditional methods.
The original brewery is renovated to a shop and cafe, and visitors can purchase not only sake but also many souvenirs.
| | |
| --- | --- |
| Hours | 9:00 ~ 17:00 |
| Business Day | Closed Occasionally |
| Tasting | Free |
| Contact | +81-577-32-0166 |
| Address | 67 Kamisannomachi Takayama |
Sake Brewery Tour
Early January to Late February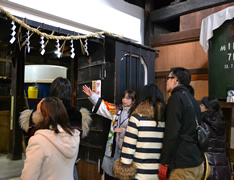 Eight sake breweries open their brewing facilities, which are not open to visitors at other times, for a period of one week in turn. After the guided tour of the brewery, sake is offered to visitors for sampling. In addition, a commemorative golden sake cup made specially in Hida Takayama is presented to each visitor.
Place: Sake Breweries in the city