Local Food
Takayama Ramen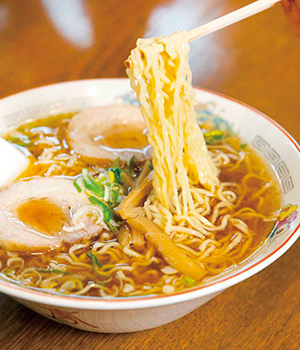 A bowl of thin curly noodles and soy-based broth. Ramen broth is typically made by placing the base (kaeshi) in a bowl and dissolving it with the hot broth; but for Takayama Ramen, the broth and the base are boiled together. The taste and ingredients vary depending on the shop, so you should try different ones and compare them.
Mitarashi Dango (rice dumplings on a skewer glazed with soy sauce)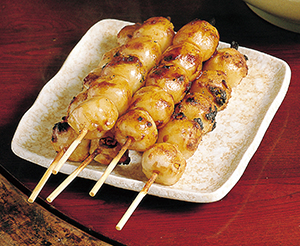 Mitarashi Dango has been eaten for more than 600 years. These soy sauce flavored rice dumplings are said to be the very first preserved food ever eaten. The dumplings are placed on a skewer, grilled and then basted with soy sauce. In most areas, sauce sweetened with sugar is used; but in Takayama, the dumplings are grilled with unsweetened soy sauce. They smell wonderful!
Hida Soba Noodles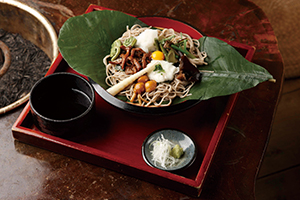 Located in the cold upland region where there is a large difference between morning and evening temperatures, Takayama is a place where high-quality buckwheat seeds are produced. Noodle making is very popular, and visitors can enjoy homemade soba noodles.
Hōba (Magnolia Leaf) Miso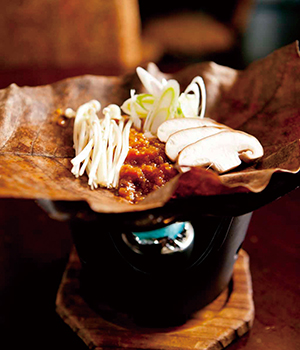 Ingredients such as miso paste, green onions and shiitake mushrooms are placed on a dried magnolia leaf and grilled over a portable stove on the table. The aroma of miso being grilled on a small earthen stove called a "Hida Konro" will tantalize your taste buds. Vegetables and meat are often added, and it is very delicious to eat this with freshly cooked rice.
Pickled Vegetables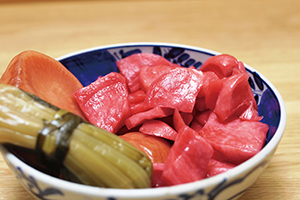 In Takayama where the winters are long, pickled vegetables have traditionally been eaten as a popular preserved food. In particular, bright colored crunchy pickled red turnips are a specialty of Takayama. There are other delicious pickled vegetables, such as Chinese cabbage and daikon radish. Enjoy the flavor and texture of these vegetables.
Highland Fruit and Vegetables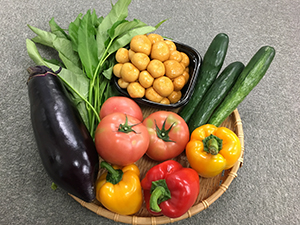 With large difference between daytime and nighttime temperatures, a cool climate and plenty of fresh pure water, Takayama is surrounded by rich nature and is a great location for growing fruits and vegetables. The most popular vegetables grown here are tomatoes and spinach. The tomatoes are as sweet as fruit, and the spinach has no bitterness. You can even eat it raw. As for fruit, peaches, apples, pears and melons are available.