Deep in the heart of the Japanese Alps, Takayama is surrounded by mountains and full of historical buildings.
In the winter the town is blanketed in snow,
evoking a sense of warmth as you gather around the hearth after a day of sightseeing in the mountains.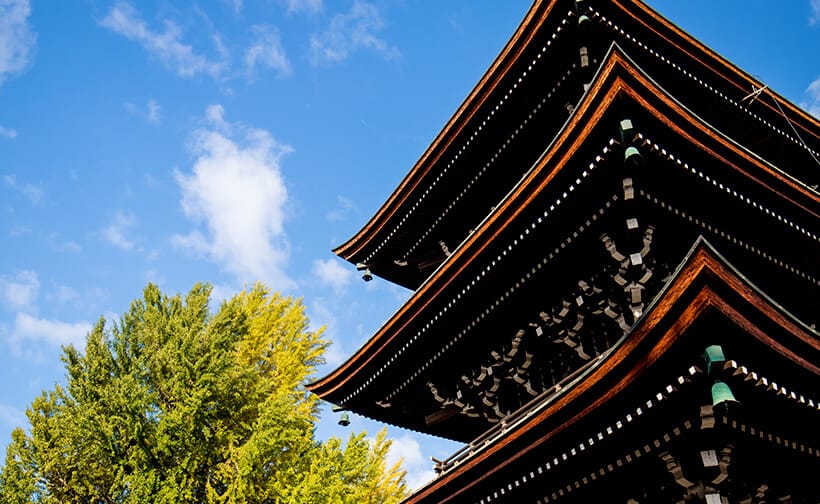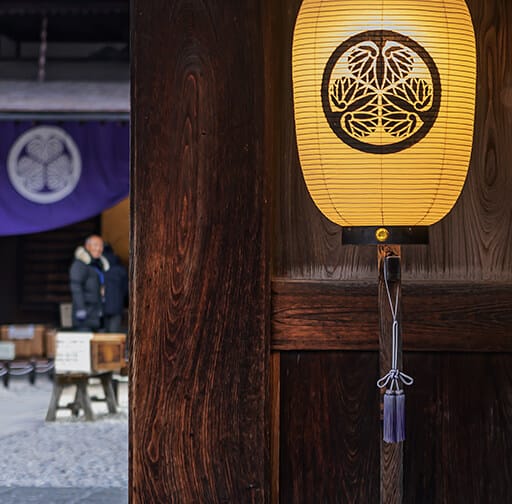 INTRODUCTION
OLD TOWNSCAPE
Hearkening back to its days as a thriving merchant town, the old townscape of Takayama remains well preserved with houses dating back to the Edo Period. The area has shops, cafes, sake brewers, and tours of historic merchant houses.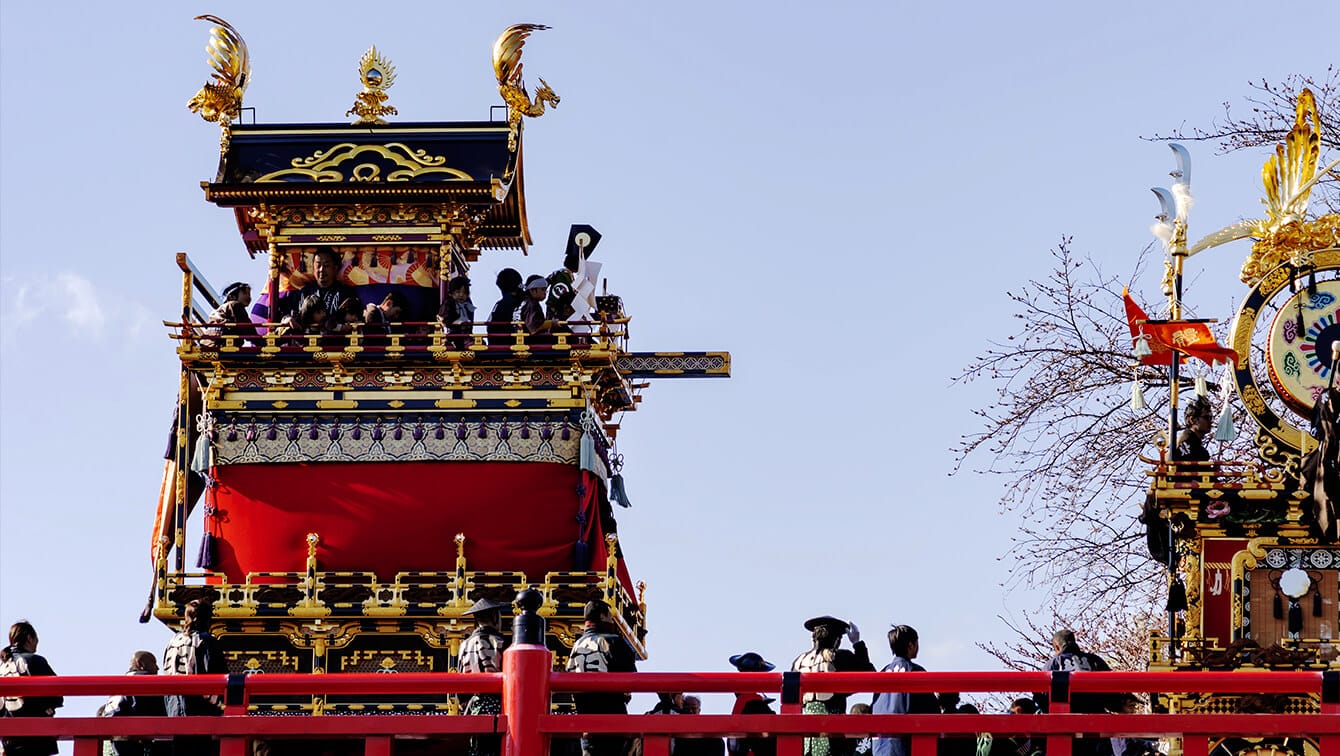 TAKAYAMA FESTIVAL
The festival, held in spring and autumn, is considered to be in the top three of Japan's most beautiful festivals. Come and enjoy the floats and pageantry as portable shrines (mikoshi) are carried through the streets of the old town.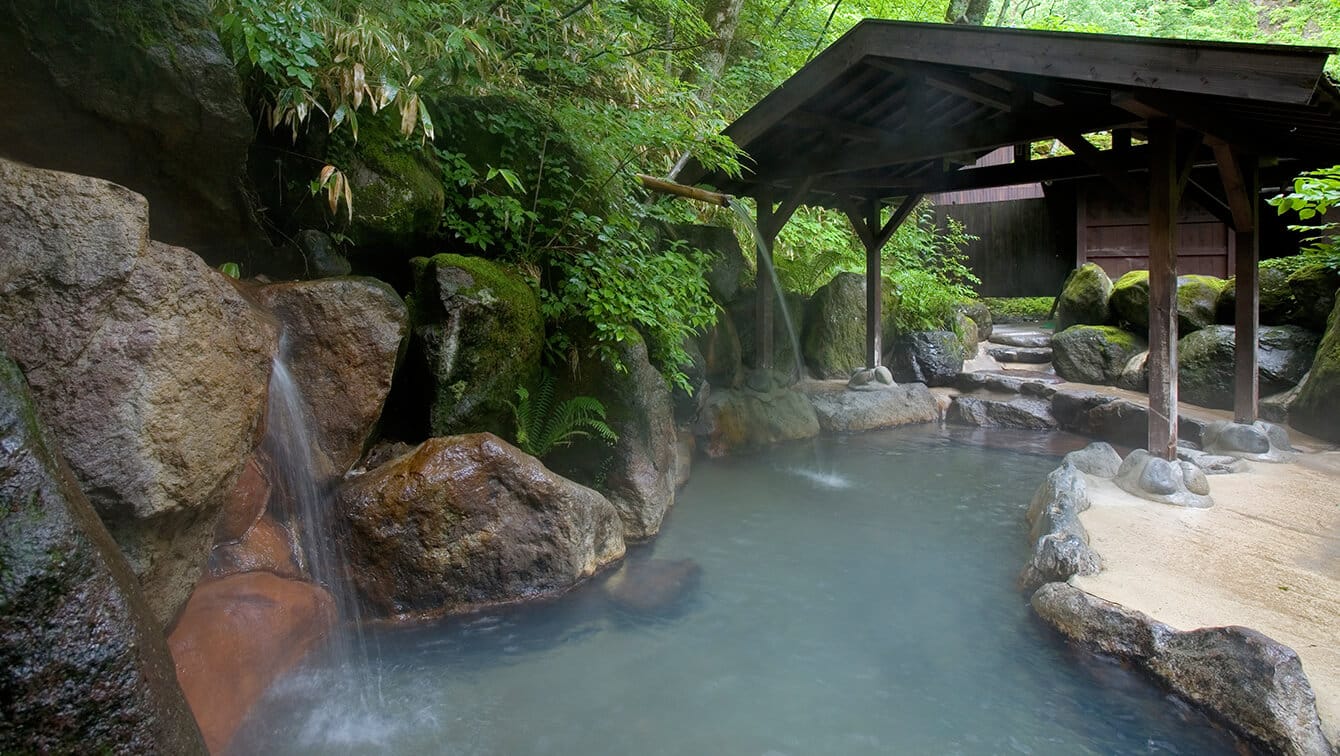 OKUHIDA
HOT SPRING VILLAGE
The village is a group of five hot springs in the valleys of the Northern Japanese Alps. The outdoor baths with their mountain views make this area a delight to visit, and the perfect atmosphere for relaxation.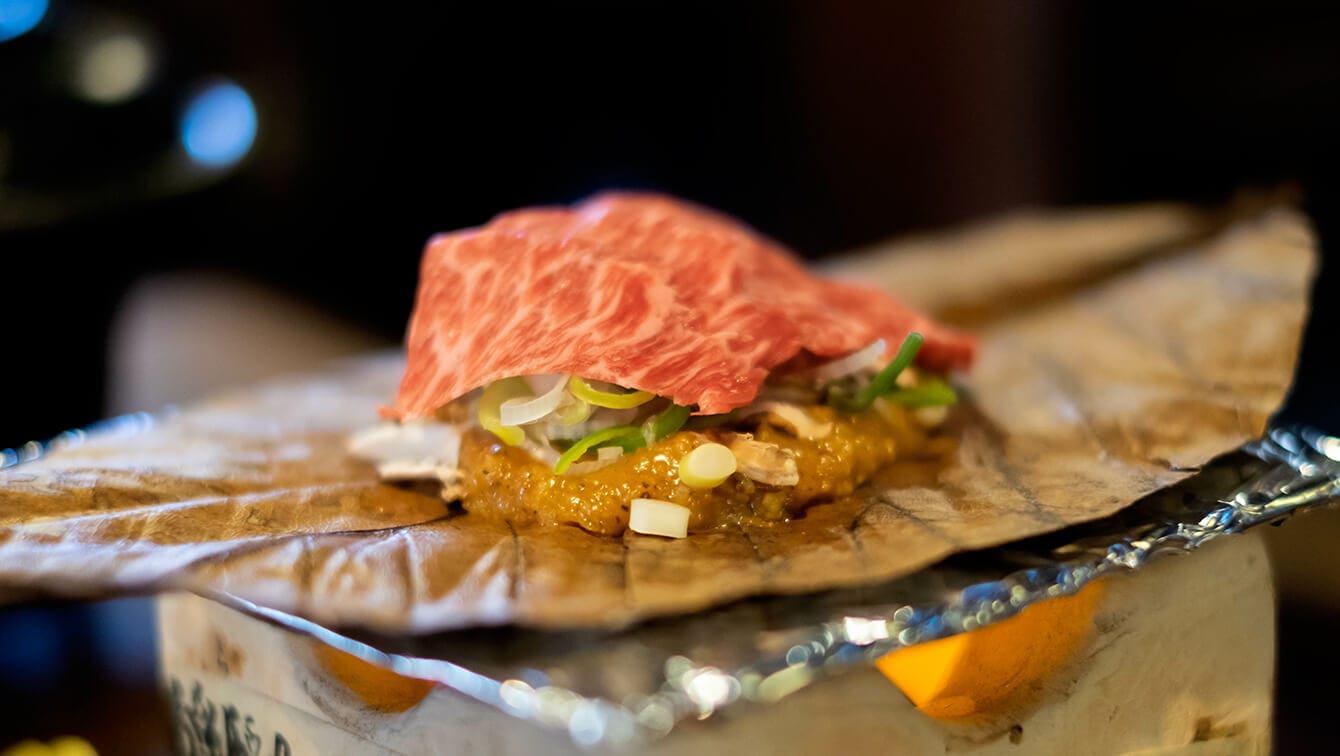 CUISINE
Surrounded in nature and steeping in history, it is no wonder that Takayama has many delicious treats to tantalize your tastebuds. Ramen, Hida-beef, goheimochi, mitarashi dango, and more are on offer. Takayama is a true culinary lover's delight.
MOVIES
YouTubers
Introducing-
Takayama
Not sure where to go and what to do? Check out these YouTubers as they travel and introduce you to the best parts of travelling in Takayama.
Walk the streets of Takayama in our guided virtual tour!
Our tour guides will take you through the old town giving you inside information on the streets of Takayama, all from the comfort of your home. See the sights for the first time or take a trip back and see it through a new set of virtual-eyes. Sponsored by Happy Plus Corporation
TAKAYAMA
Nestled among the mountainous Hida region, Takayama is home to history and tradition preserved like none other. A short ride from Nagoya and easily accessed from Central Japan International Airport, make Takayama a great addition to any plan that craves a rural element to their trip to Japan.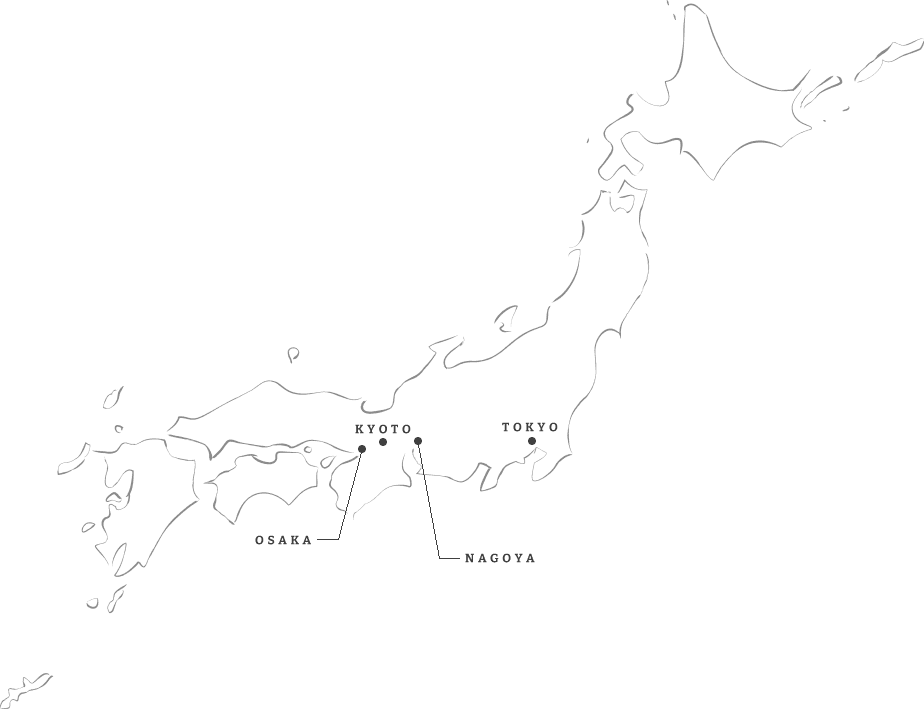 SHINHOTAKA ROPEWAY
SMILES AND MESSAGES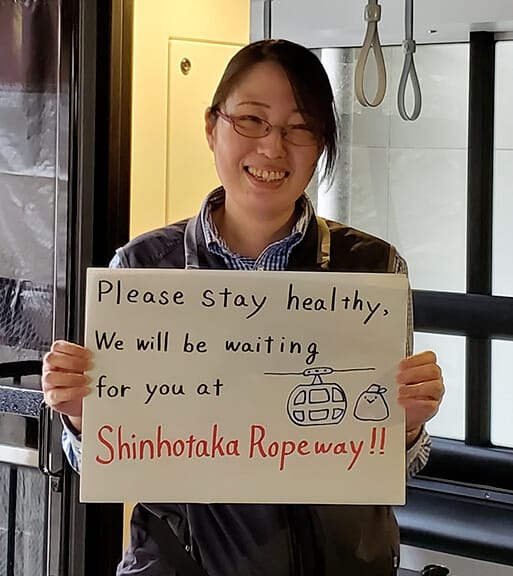 We have been operating since 1970. Our facilities are wheelchair accessible. It is important to us to ensure the safety of our guests while they enjoy this unique experience.
Our mission is to have our guests enjoy their ride on the gondola. Ropeways are rare in the world and Shinhotaka's two-floor gondola is one of only four in the world. Recently our building was fully renovated, and we replaced our gondola with a newer model. The windows are larger and offer a better view. Our guests look forward to seeing the snowy scenery of the Japanese Alps, and we are happy to help them. We believe interacting with customers is very rewarding and can lead to fun and interesting experiences.
TOHOEN
SMILES AND MESSAGES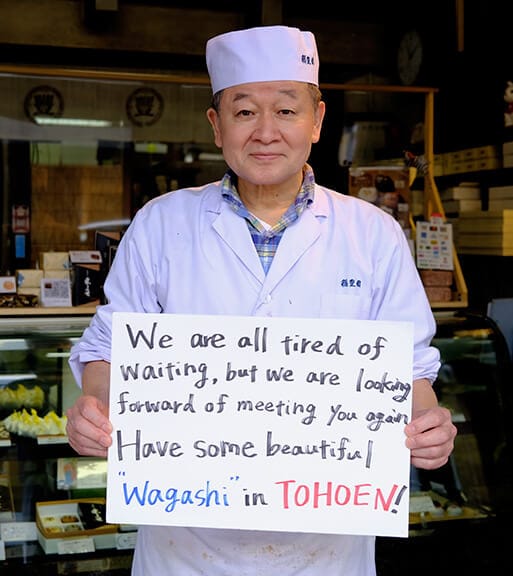 We have been operating for over 110 years with a selection of traditional sweets that go hand in hand with Japanese culture, people and climate.
Our duty is to be able to offer you sweets that embody the essence and flavor of each season. For example, the snow on a pine tree in winter or the popular cherry blossoms in spring, fireworks and fireflies in the summer and fallen leaves and chestnuts in autumn are themes we will express in our desserts. Whatever the season we want our traditional desserts to transport you to a place of happiness and bliss. Recently, our Cat Manjus are very popular. Both cute and delightful. When you stop by you will never know what we will have to surprise you. We sincerely look forward to your visit.)
YAMADA SHUNKEI
SMILES AND MESSAGES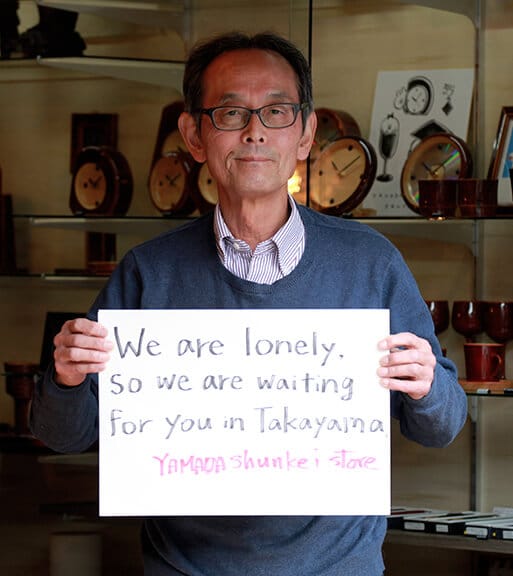 We specialize in Hida Shunkei lacquerware with more than 400 years of tradition.
There are many repeat customers. Most of them are customers from overseas. I'm glad that they keep coming back to visit me, and Hida Takayama as well. It is great for both us and the city. I always look forward to meeting my customers again.
FURUSATO FUKUJI ONSEN
SMILES AND MESSAGES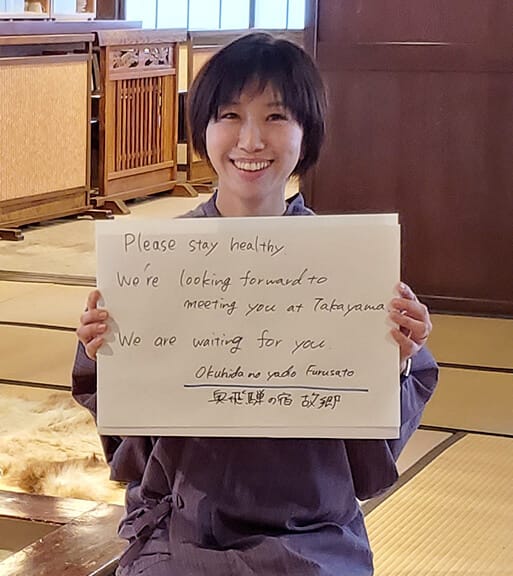 We are a small 3rd generation family-run Japanese-style inn. The inn dates from the Edo period and is built following the tradition of Hida old folk houses. Guests can enjoy all Japanese hospitality has to offer.
At our ryokan, you can enjoy the Fukuji Onsen at their source. The naturally free-flowing water will heal your body and soul. All our rooms are in the traditional Japanese style. A variety of room types are available to satisfy your different needs. You can enjoy Japanese cuisine while sitting around Irori (a traditional Japanese fireplace). We serve the best seasonal fresh local food in our traditional kaiseki dinner. You can enjoy typical Takayama cuisine with Hida beef steak, fresh tomato juice, Hoba miso, and miso soup. We serve our guests with rustic but tasty dishes enjoyed by the people of Hida in ages past. We hope that the taste will bring back memories and leave you with a nostalgic feeling of sitting around a hearth like in days long gone. We want to move you emotionally with the dining experience.
KAMINAKA RYOKAN
SMILES AND MESSAGES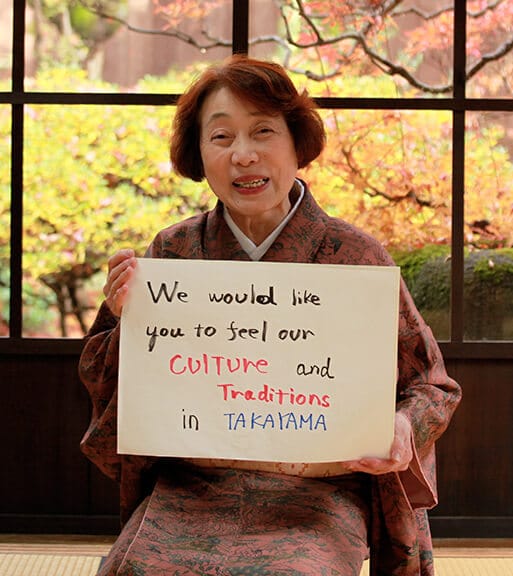 We are the oldest Ryokan in Takayama, with a Japanese garden you can enjoy in any season.
80% of our guests are from overseas. Among them, Italy and Spain are the most frequent. Many guests who stay in Kaminaka want to see or experience traditional Japanese things. That is why they are staying at an inn. We are working hard to live up to their expectations. Guests often share with us kind words about Takayama and their experiences and even give us souvenirs. Working in this business has been very rewarding.
TAKAYAMA GYOZA
SMILES AND MESSAGES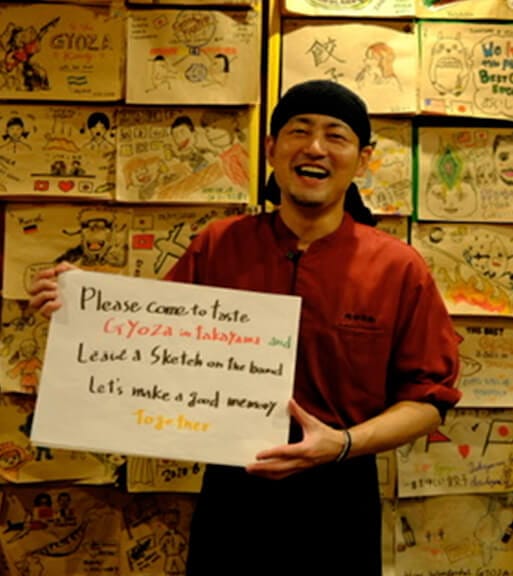 We make handmade dumplings made using only ingredients from Takayama.
I do my best to please my guests, so I am happy when they ask me to take a picture with them, and it makes me feel like I am part of the group. Often Guests come here to take pictures and draw. Despite the restaurant being small, overseas guests are willing to wait in line, no matter how crowded the shop is. While waiting, they speak with each other and make friends. It makes me very happy.
HEIANRAKU
SMILES AND MESSAGES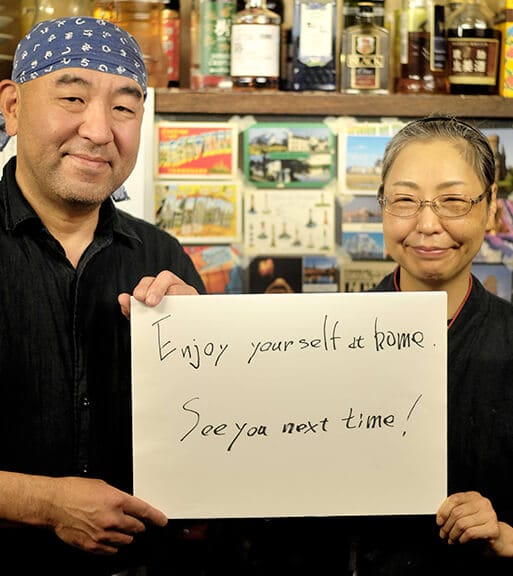 We have served authentic home-style Chinese cooking since 1963. We offer many dishes catered to your dietary needs.
We have operated for more than 55 years. It has always been a Chinese cuisine restaurant. When we started there were not many Chinese restaurants in Takayama. We did not expect foreign visitors who came to Japan to eat Chinese cuisine. We work hard to communicate with customers seek to meet the dietary needs of our customers. Meeting the needs of our customers brings us joy and pride in our work. So be sure to let us know what we can do to help.
SUZUKI CHOKOKU
SMILES AND MESSAGES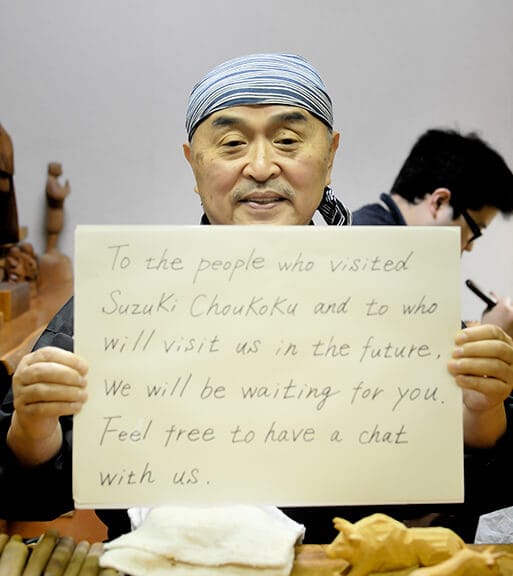 Our family-run business has served the community for over 80 years. We hope to introduce visitors to traditional Itto-bori carving through our original works.
REAL JAPAN,
HIDA TAKAYAMA